Wes Boldly Goes Trekking!

Star Trek: Legacy to feature ALL FIVE original Captains!

So I have finally realized a dream - I am going to appear in a Star Trek project with William Shatner!
Yee-ha!
Anyone who knows me knows that the geek boy inside is doing the happy dance right now. I just laid down several voices for a new Star Trek video game being produced by Bethesda Softworks. Star Trek: Legacy, whose release this fall will coincide with Star Trek's 40th Anniversary, will mark the first time that all five series Captains - William Shatner, Patrick Stewart, Avery Brooks, Kate Mulgrew and Scott Bakula - will act in the same Star Trek project together! This is huge news - if you don't believe me, read the Press Release!
But personally, the bigger news is that I will be a part of it. And I'm thrilled!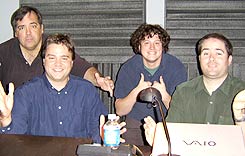 Wes, Mad Doc Software Producer Parker Davis, Absolute Pitch's Jason Tait, and Bethesda Softworks' Laffy Taylor mug for the camera during playbacks.
A few months back, I had the pleasure of actually voicing the Kirk lines for the demo version of the game that made it to the
E3
convention. I've been doing a Shatner impression almost as long as Kevin Pollock (
See The William Shatner School of Acting
), and a Shatner fan for even longer, so this was an honor to do. Some people felt that it was a pretty dead on impression. Still, even though it was great to sit in the Captain's chair, I knew that there was no one else for the job of Kirk than the man himself. And the man? He agreed.
As Shatner told Reuters, "I couldn't imagine someone else playing Captain Kirk, even in a video game, so I kind of got a little territorial."
Sweeeeeeeeeeeeeeeeeeeeeeet! It's kind of like I'm a Gorn taking a paper mache rock right to the chest! How cool is that?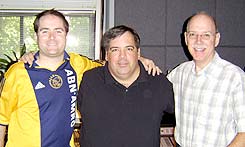 Laffy Taylor, Wes Johnson and Chip Ellinghaus at Absolute Pitch, where the sound is sure and the coffee is GREAT.
So instead of playing Kirk for the game, I played the main Klingon Captain Menvek (
YOU KILLED MY SON!
), a generic TOS Captain, The Borg, a TNG Crewman and a familiar TOS Helmsman. It was a blast, and recording with
Laffy Taylor
at
Absolute Pitch
in Bethesda was a lot of fun (if not hard on the vocal cords during heated Klingon battle). I've discovered that working with
Bethesda Softworks
on video games is usually a great experience. In fact, this will make the second video game I've done with them in a row that features the great voice of Patrick Stewart.
The Elder Scrolls IV: Oblivion
was the first (and REALLY worth checking out!).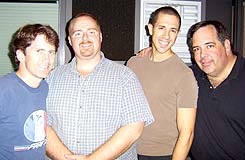 Back at Bethesda Softworks with Todd Howard, Emil Pagliarulo, and Mark Lampert. This is just before lunch. They have a GREAT restaurant in house at Bethesda. It's great food keeps busy developers in the building, and hungry voiceover talents OFF their diets!
It's very cool that Bethesda Softworks can bring such wonderful stars like the Five Captains to their games. The voice directors and producers (like
Mark Lampert
,
Charles Harribey
and Laffy) are remarkable at bringing out the best in their voice talents, and the graphics developers at Bethesda have been doing some jaw droppingly beautiful work. If the brilliance of
Oblivion
is any indication,
Star Trek: Legacy
should be even more fun to play than it was to record. The only thing that could have been more fun?
Meeting Shatner himself.
But then, there's always the future!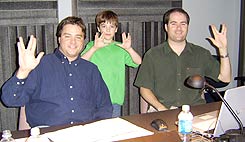 ---
Check Out These Handy Links
Star Trek: Legacy - Official Site
Star Trek: Legacy - Official Trailer
The Elder Scrolls IV: Oblivion - Official Site