Voice of The Capitals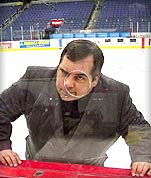 Being the PA Announcer for the Caps is a blast! The team is thrilling to watch, starting with the Great Eight, Alex Ovechkin! The 2008-09 season saw him gather in the Hart and Richard trophies once again, yet he has his sights set on something more... the Stanley Cup! The 2009-2010 Caps have a few scores to settle, and with this talented group, scoring won't be a problem. Ovy and Nicklas Backstrom will have a new linemate this season in Mike Knuble, who will bring his scrappy veteran skills to the crease on both ends of the ice. Alexander Semin, Brooks Laich and the rest of the caps high powered offense will be joined by Brendan Morrison. Adding to the high octane Caps this season, look for defensemen Mike Green and Karl Alzner to be joined by rookie John Carlson on the blue line. In the net, along with Jose Theodore, look for playoff sensation Semyon Varlamov, and occasionally the AHL Playoff MVP of the Calder winning Hershey Bears, Michal Neuvirth. And of course, it will all be orchestrated by the Caps great Head Coach Bruce Boudreau. Oh, yeah... good times.

Being the Public Address announcer has many benefits. Like... THE BEST SEAT IN THE HOUSE! Sitting directly between the penalty boxes, I am center ice and almost on the ice. When the best players in the world crash into the glass two feet from my face, knocking the monitor into my lap, am I afraid? No sir. I am grinning like an idiot. Sometimes, a grown-up job truly brings out the child in you. And that child is really looking forward to ROCKING THE RED and ripping the roof off Verizon Center every night!
Join Caps Announcer Wes Johnson on a tour of "his" Crib...