Oblivion Launch Party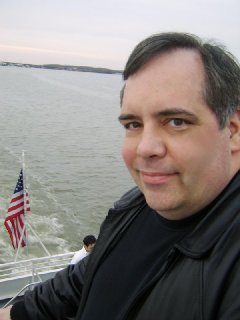 When someone offers you a three hour tour, do you go? Well, DO ya Gilligan?
When the video game "Oblivion: The Elder Scrolls IV" shipped, well, so did most of the people who created the game. On Monday, March 20th, 2006, hundreds of employees from Bethesda Softworks boarded The Spirit of Washington for dinner, drinks, and very little dancing in order to celebrate the game that has been widely praised as being a breakthrough in gaming. I was lucky enough to have been invited by sound director extraordinaire Mark Lampert, and truly had a blast. I got a chance to introduce Bethesda's Todd Howard, Robert Altman and Ernie Dunn using the voice of the Oblivion Arena Announcer, which was fun (and loud). I also met Robert's lovely wife, known to the world as Lynda Carter. She and I seemed to be the only voice artists from Oblivion on the ship. Below are a few photos from the night, which was almost as enjoyable as playing the game. Almost.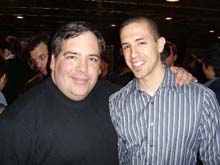 Mark Lampert is a great guy who directed me in all my voice work for Oblivion, and invited me on the cruise.  Without his sound work, Oblivion would be a silent movie.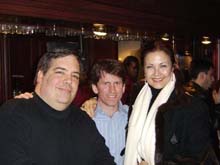 Other than doing voices for Morrowind and Oblivion, I have been hopelessly addicted to the games.  The blame goes to Executive Producer of The Elder Scrolls, Todd Howard, who stands between me and a Woman who is truly a Wonder, Lynda Carter.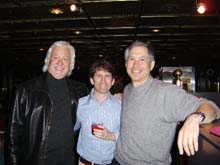 Big Cheeses Ernie Dunn, Todd Howard and Robert Altman huddle just before being introduced in the "Aqua Arena" as the Champions of Cyrodil.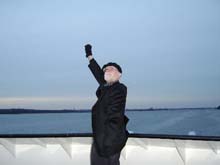 What does the Lead Game Designer Ken Rolston become when he retires after producing his biggest success?  KING OF THE WORLD!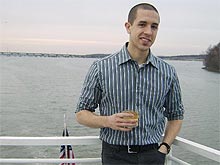 The name's Lampert.  Mark Lampert.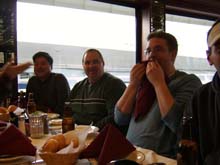 From left, Producer Ashley Cheng, developer Emil Pagliarulo (who wrote all the dialogue for Lucien Lachance. Were it not for him, Lachance would be a mime.  An Evil, evil mime), and Brian Chapin sample the appetizers.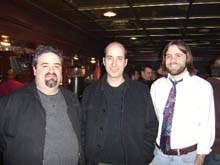 From left, Alan Nanes tested the work that lead Artist Matt Carofano and developer Noah Berry slaved over for years, and found it...  excellent!   Many at the party loudly requested that Noah dance.  By himself.  He gracefully declined.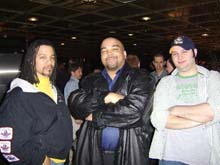 Brian Jackson, Ruben Brown and Matthew Ouzounian strike a gansta pose on the boat.  In nautical terms, that makes them pirates.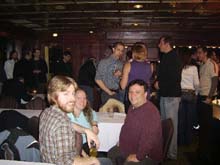 Moments before this happy shot, Brendan Anthony, Dan Teitel and friend were planning a mutiny at sea.  Then the drinks arrived, and all was well.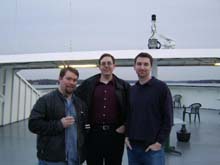 Paul Tuttle, Michael Wagner, and Rob Havlovick look calm now,  but when that horn behind them blasted, there were drinks were all over the upper deck.
Mathew Krohn knows that the ladies love the hats.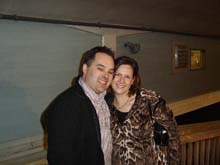 Designer Mark Nelson and his lovely wife are no longer on board, but baby is!!!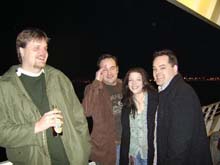 Todd Broadwater salutes, but Michael Fridley, Mark Nelson and Todd's lovely wife laugh, knowing that it is Captain Stubing and not Patrick Stewart who is passing by.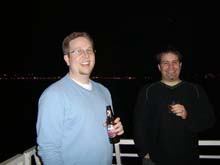 Brian Chapin, and Michael Ryan enjoy a cold one while watching critics walk the plank.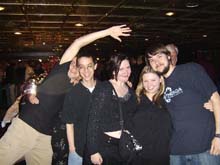 Nathan Nordfelt, Dan Lee, Megan Sawyer and friends start an impromptu game of Twister.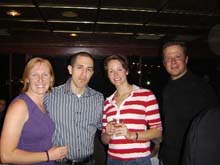 There's something about Mary as she hangs with Mark Lampert, Lauren Cunningham, and Adam Adamowicz.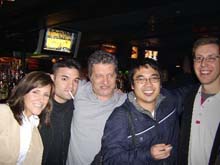 Vlatko Andonov gathers the usual suspects and plans a raid on the castle.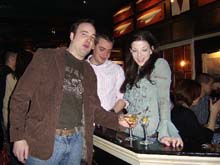 Todd Broadwater, his lovely wife, and Gavin Carter know that SOMEONE will be blamed for that broken martini glass...  yet they pose for a photo anyway.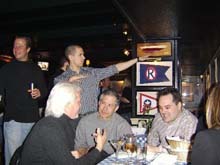 As the evening wound down, Mark Lampert walked like an Egyptian, unnoticed by Adam Adamowicz, Ernie Dell, Robert Altman, and Mark Nelson.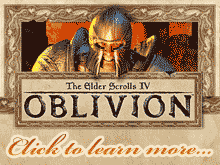 Now, let's play!