The Knights who say "NINE!"
(With Apologies to Monty Python)

New Oblivion Quest to be released in November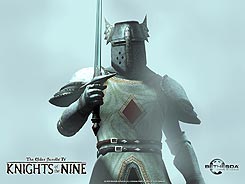 For those who have been asking me "when is there going to be a new quest for Oblivion," the time has arrived. "Knights of the Nine," with approximately 20 or more hours of new gameplay, will feature new factions, new weapons, new armor and deep, deep dungeons. It debuted November 21st in both stores and on XBOX Live, and will be available for download on the PC in early December! The PS3 release has been delayed, but it will be oh so worth the wait.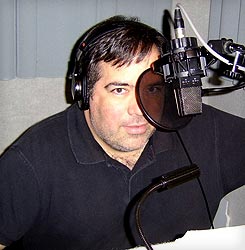 Wes, behind the mic for KOTN at Absolute Pitch Studios.
I am excited to say that I was a part of the Voice Team for "Knights of the Nine." I got a chance to work with my friends over at Bethesda Softworks again, and to create some new characters that are even more unhinged than in the original game. Directed once again by Mark Lampert along with Brian Chapin in one session, and by Mark and Mark Nelson in another, I had a blast. I am particularly proud of the Prophet and Pelinal, but that is just the tip of the iceberg in regard to the fun Bethesda has planned for you in "Knights of the Nine."
Below, you will find a few photos from the sessions, and links to the official Oblivion sites and forums.
Enjoy! I know I did!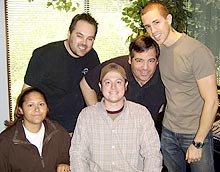 From the left, Alexandra Souder, Mark Nelson, Jason Tait, Wes and Mark Lampert huddle after a session at Absolute Pitch Studios in Bethesda.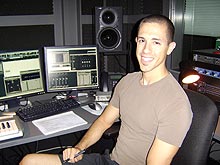 The Mix Master, Mark Lampert, at his helm in the Bethesda Softworks Batcave.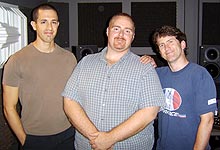 Mark Lampert, Emil Pagliarulo and Todd Howard just after the bag has been removed from my head and I find myself deep in the secret underground fortress that is Bethesda Softworks.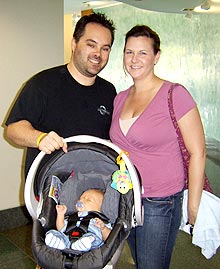 Mark Nelson is justifiably proud of his beautiful family.
The Official Elder Scrolls Site
The Official Elder Scrolls Forums