Feelin' a Little
Comedians of Comedy
Ya know what? Patton Oswalt is a hell of a guy.
I knew this years ago, when Patton and I met doing stand up at a National Lampoon Comedy Contest in Washington DC. Even then, I loved the way his mind worked, and thought he was one of the funniest guys I had seen doing stand up in a long, long time. He was fun to hang around with, and he even joined my comedy troupe Fresh Victims as a special guest on a few occasions. Then he moved out of town.
Hmmm. Wonder whatever became of him?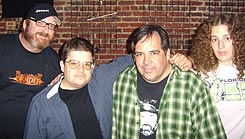 Brian, Patton, Wes and Morgan pose in front of the standard comedy brick wall. That's Eugene Mirman's hand on Wes' shoulder. He is standing just right of Morgan. Photo Tip - Always inspect photos taken by strangers for quality control purposes.
Unless you've been buried under a rock, you'd know Patton did pretty damned well. Comedy Central and HBO specials, as well as a great regular role as Spence on the CBS show "King of Queens" has made Patton a very familiar face. So when a guy like Patton shakes the dust of this crummy political town off his shoes and moves big time, he must forget about everyone he ever knew, right?
Wrong. Patton is still the same funny, nice, comic book loving guy that he was when he left. Only now when he comes back, like he did last night to the Black Cat in DC as part of his "Comedians of Comedy" tour, he gets treated to full houses and the respect for his craft that he always deserved. The Black Cat was packed for the show, and why not? The Comedians of Comedy rocked. There was a line all the way down the block when I got there, and inside, the place was packed to the rafters. In a club more suited to punk rock than comedy, Patton, Brian, Morgan and Eugene felt right at home.
If you missed this show, you lose.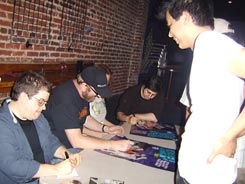 Hey! Eugene Mirman is in this photo! After every show, the Comedians of Comedy meet and greet their fans, signing posters and cd's (soon to be seen on eBay).
Patton
opened (and closed) the show, and the crowd went nuts. I was sure that slam dancing would ensue at any moment. As always, Patton was hilarious. I have seen his act a number of times, and as always there was something new. Even the little changes in some of the older stuff went over great. I missed "Put the Puppy in the Bucket" from his State show a few weeks back, but there was plenty of new laughs to be had.
Brian Posehn, as usual was a scream. If you were there, you now know what Puppy Time is. You also know that screaming "Slayer" can be more effective than Scientology in the beard department. During Brian and Patton's sets, I would see people laughing, and holding their hand's over their mouths in shock at the same time. Indie comedy at it's best.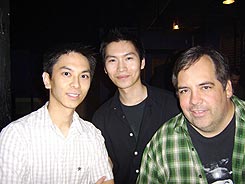 Patton has a lot of famous fans! I met Jonathan and Joshua Luna, better known as the Luna Brothers after the show. They had just handed Patton brand new issues of their Image comic "Girls." Patton was thrilled. Check their work out at
www.lunabrothers.com
to see why.
Morgan Murphy
was a revelation. Great timing, and a very sneaky way of coming up on jokes. I really enjoyed her set. Patton said that she had written some of his material for the Shatner Roast a few weeks back. These are two very dangerous comedy minds... the combination could be lethal!
Eugene Mirman had the most technologically interactive set of the night. Utilizing pretaped audio and video (they used a sheet stolen from the hotel as a backdrop), he was somehow both sweet and sour at the same time. If you're ever in New York's East Village, make sure you see him with Bobby Tisdale in "Invite Them Up".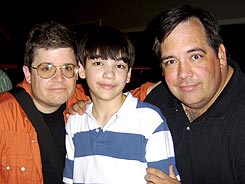 Here's a shot from the show at The State back on August 19th. It was my son Sam's 13th birthday, and Patton was happy to pose with him after the show. Pretty good night. Thanks again Patton!
Got them all to sign their poster and snap some shots after the show. It was great to finally chat with Brian after seeing him about 4 times on stage. Morgan and Eugene were genuinely nice as well. Sadly, the fan who snapped the photo of us all accidentally cropped Eugene out of the photo. Crap. Now I'll have to catch the show again. You should as well.
Go to their MySpace page
and check out the tour when it's in your neighborhood.
Tell 'em Wes sent ya. Not that THAT will get you anywhere.