Wes at Cinegraphic Studios
On Saturday, July 9, 2005 Wes and much of the cast of "A Dirty Shame" appeared live at Cinegraphic Studios to chat with fans and stroke their autograph on Shame-ful memorabilia. Below are some photos of the event with a link to a short video from the days activities.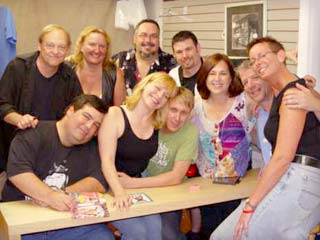 The cast with Eric and Pam, owners of Cinegraphic Studios. From left, bottom row, Wes Johnson (Fat Fuck Frank), Jewel Orem (Loose Linda), Jonas Grey (Warren the Mailman), Susan Allenbach (Betty Doggett), Eric and Pam of Cinegraphic Studios). Back row, from left, Michael Gabel (Mr Payday), Jay from the Holiday House, Dave Moretti (Papa Bear) and Jeff Auerbach (Baby Bear). Jayson Vance (Big Biker) was there, but had left before photos.

Brannon, aka Dr. Razorblade hangs with the cast.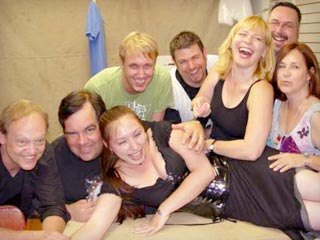 Sister Dee is held down by the cast as Jewel Orem (Loose Linda) presses the button that remote activates her vibrator (no kidding!).
How About Some Video?
Click here to see the video in a new window. It's a short video clip from Eric at Cinegraphic Studios chronicaling the shameful events of the day. Get ready for some fully clothed sploshing!