48-hour Film Festival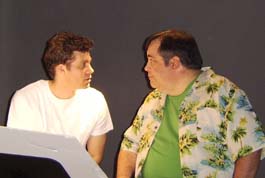 Josh Davis as James, and Wes Johnson as Jonah in "Road to Mu."
Over the weekend, I was God. Well, kinda. I was Jonah, who is "God-esque." I was also a gay man and a lesbian, both of whom blow mean glass sculptures. That kind of craziness is what the
48 Hour Film Project
is all about, and I participated in two films, both of which will be shown this WEDNESDAY NIGHT at the
AFI SILVER
in Silver Spring, MD. The shows start at 9:15pm.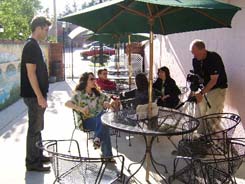 Josh and Chip line up a shot with Tanya at Cafe Monet.
Look for me as Jonah in
Chip Franklin's
"Road to Mu,"
costarring
Josh Davis
. I'm the one in the ill fitting Hawaiian shirt. And I'll be a living doll as flamboyant Tony in
Travesty's
"Den Forpagters Hus"
alongside
Dave Nuttycombe
,
Shari Elliker
,
Tom Welsh
,
Pat Carroll
,
Rich West
and
Brad Dismukes
.
Here are a few production shots from the Chip shoot. And for some of the insane shots from the Travesy film, watch this space!
Want to Learn More?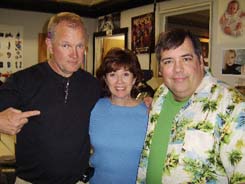 Chip and I with the wonderful Brenna McDonough.
Click here
for Tickets.
For more information about the project, visit
www.48hourfilm.com
.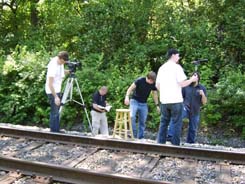 Sometimes, filming is like a chain gang...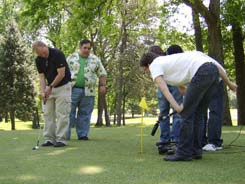 With only 48 Hours to make a film, Chip Franklin is calm enough to get a few rounds in.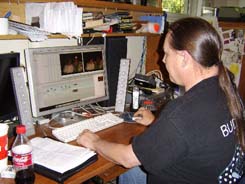 While everyone continues filming, Rex is hard at work editing. 28 hours to go...